Wow, 8 lengths cover the entire Classic field at wire.
No horse can hang their head, well maybe Uncle Mo since he had so much hype and finished 10th beaten 7 lengths, but was only 4 lengths away from hitting the board (fourth place). Uncle Mo never really looked great in workouts at CD. Just a few months ago he was a very sick horse, close to death because the equine specimen have one of the most unique and complex GI tracts, intestines and Stomach's.
To Honor and Serve ran a huge race, two lengths behind Game on Dude. C. Sutherland rode Game on Dude with so much confidence and at the final sixteenth pole she still had the lead. Harve de Grace was in tight and covered or harassed throughout by the males, which can be intimidating for any horse. The filly definitively did'nt disappoint her connections and neither did Ruler on Ice who came with a rush or horses like Ice Box, Rattle Snake Bridge, and Flatout that never were heard of but finished 6 lengths or 1 second behind the winner.
Drosselmeyer a three year old who was ridden to perfection by Mike Smith the Legend and Hall Famer. In the video replay you can see Mikey out of the gate just gather Dross and relax. It was a great race and remember It's horse racing we can't predict the unpredictable.
Goldikova's final race was great in my opinion, she gave it everything she had. she was in very tight going into first turn and P. Val put Courageous Cat right on Goldi down the backside. She made too early a run because her Jockey knew it was going to get tight if he waited and then she gets passed late by a length in the end. She rides off in the sunset with over 7 Million Dollars in lifetime earnings, and all my respect. Whats your final thoughts on Goldikova?
It was great to see R. Albarado back in the Winners Circle after the Animal Kingdom situation.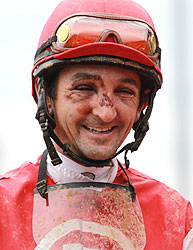 http://www.youtube.com/BCWorldChampionships#p/u/1/7_JY35JjPt8
(BC Mile)
Hansen a home bred son by Tapit showed me heart, determination, and fight. Union Rags and Creative Cause also ran winning races, do you think one of these 3 horse's will win Derby in 2012, predictions?
http://www.youtube.com/BCWorldChampionships#p/u/5/lm6PTqsSi9w
The overall best moment was seeing Mike Smith my favorite Jockey win the Classic a year after the Zenyatta lost.That's 15 BC wins tied for first place with Jerry Bailey.
Longshots were also a big trend in this years Cup, it shows that every dog has his day and people overlook champion horses at a big price, the ALL button doesn't seem so bad in these types of races, Key wheels are another big way to cash in big money, ALL/ALL/ALL/ Havre de Grace 10 cent super $4,700. 50 cent Trifecta ALL/ALL/ Goldikova over $2,000. The favorite Jackson Bend finished 3rd and super pays $2,500 but you have to wheel with all. Bird Run or Giant Oak could have been key wheeled (ALL/ALL/single in every spot) with a super of $20,000!
My second most memorable moment was A O'Brien winning two BC races and having his18 year old son (J O'Brien) ride one of the them. This is a feat i will always remember as one of the greatest moments in BC history. Watch this press conference after O'Brien wins his first BC race of the day with Wrote, O'Brien is so laid back, he even leaves his shades on during the entire interview.
What was your fondest memory of the 2011 BC Cup?